Biography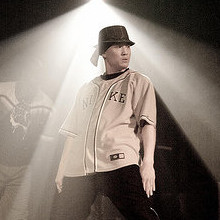 Andrew "Pyro" Chung started showing interest in dancing at the age of 12, learning how to do hiphop choreography from his older sister. From there Pyro discovered the art of street dancing and took on the art of popping at the age of 14, which he continuously strives to perfect. One year later, while still growing as a dancer, Pyro found a natural skill in the art of bboying which then became one of his other main art forms.
While training with the "Twisted Ankles Dance Crew", Pyro had the opportunity to learn and branch off to other styles such as, locking, krumping, and get back into choreography. With the ability to train multiple dance styles and techniques, Pyro is now a national "all styles" champion 11 times over. You would also be able to find him on television and in commercials (OLG Lotto 647 "Happy Dance", Walmart, Virgin Mobile, Footlocker Adidas, Much Music, and MOD), music videos (Art Of Fresh, Slakah the Beatchild, Daytona), movies (Beat the World, Score a Hockey Musical), and stage productions around the world (Gadfly's "Dora Award winning": Klorophyl, Pan-AM Games closing ceremony Mexico, IIFA Awards). Pyro has been presented Dancer of the Year 2011 at the Gadfly Award Ceremony and Dancer of the Year 2012 at the Manifestos Floor Awards.
Growing up with many negative influences in his life, Pyro has never looked at dancing the same way again. Pyro has used dance as his way to better himself as a person in the community; volunteering to help the community during high school, by dancing for charities and taking care of special needs students in his school. His teachers recognized his gift to do more good than bad in the community and he was recommended as a youth worker in many outreach programs, including A.F.C.Y (Arts For Children and Youth) and holding assemblies with his own crew Twisted Ankles, and Unity Charity. Spreading a positive message and being able to encourage youth to find their passion is very important to Pyro because he believes that finding his passion in life (dance) is what kept him off the streets and living a better and a more positive lifestyle today.
"I believe I can, but if you believe in me as well… I WILL!" – Pyro