Biography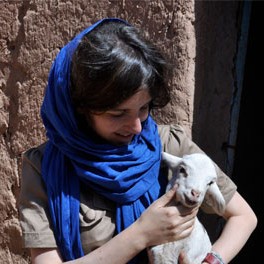 Aziza Chaouni is founding principal of Bureau E.A.S.T. and Aziza Chaouni Projects, and Assistant Professor at the John H. Daniels Faculty of Architecture, Landscape, and Design. She holds a Master of Architecture with distinction from the Harvard Graduate School of Design and a Bachelor of Science with Honors in Civil Engineering from Columbia University.
Chaouni's personal research is focused both on developing world design issues and on methodologies to integrate architecture and landscape, and more particularly through investigating the potential of green technologies in arid climates. At the University of Toronto, Chaouni teaches graduate option studios set in the Moroccan Sahara, investigating sustainable modes of construction and xeriscaping technique and their integration with tourism. She also leads an initiative with Professor Liat Margolis called the Out of Water project, identifying and assessing the performance of different methods to harness, treat, collect and describe water. With Margolis, Chaouni is organizing a multidisciplinary international conference set for 2011 on the integration of water technologies in the architecture, landscapes, and urbanisms of arid climates.
Chaouni is the director of Design Ecological Tourism, a research platform at the Daniels Faculty. Since 2008, DET has brought together faculty members from the University of Toronto, Ryerson University, international experts, local stakeholders, government officials and graduate students to research collaboratively the challenges faced by ecotourism in the developing world. DET develops and disseminates transferable tools, strategies and visions for low impact forms of tourism, which safeguard fragile environments and invigorate local economies. Also, DET seeks to not only introduce graduate students to working in developing world contexts, but also to nurture collaborative research environments that combine the 3 design disciplines (architecture, landscape architecture & planning) with ecology, economics and sociology. DET Ain N'sissa masterplan in Morocco won the prestigious ACSA 2012 award and the 2012 PA award citation.
Chaouni developed her professional experience in offices in Morocco, Europe, Canada, and the United States including Hashim Sarkis ALUD; Diller Scofidio + Renfro; and Renzo Piano Building Workshop.
Chaouni's office with partner Takako Tajima, Bureau E.A.S.T., has been recognized with top awards for both the Global and Regional Africa and the Middle East competition from the Holcim Foundation for Sustainable Construction; the Architectural League of New York Young Architects Award; Environmental Design Research Association Great Places Award; the American Society of Landscape Architects Design Awards; and other professional design awards and prizes. Bureau E.A.S.T.'s work has been published and exhibited internationally, including the International Architecture Biennale in Rotterdam; INDEX: Design to Improve Life in Copenhagen; and the United Nations Human Settlements Programme (UN HABITAT) World Urban Forum.